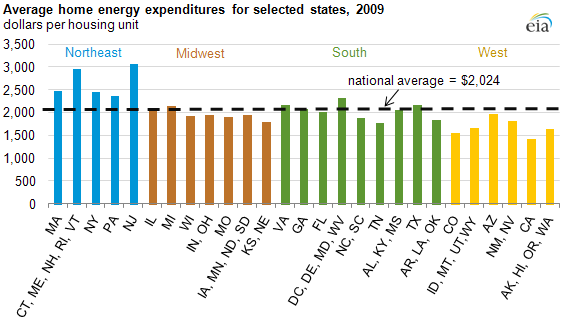 Just look at the above graph. People complain about how expensive it is to set up a solar power system (photovoltaic system), but in my last article I showed you how to set up a quality off-grid system using parts ordered right to your door from Amazon.com for about $2.2k. Hold on, look at the graph again! The average home in the United States in 2009 spent $2,024 in one year. So basically:
You can set up a solar power system that will power your home flawlessly for 5 years (until you may have to replace the batteries) and another 10 years (until you may need to replace the panels) for the cost of powering your home from the grid in one year!
I'm sorry, but it sounds like the person who said solar power was expensive was the idiot here....
I
n the United States the average household uses 901 kWh of energy per month or about 30 kWh per day (
eia.gov
).
I've spent a lot of years living in apartments and overall I rely on electricity a lot less that most people I know (example: I don't own a TV and I don't spend all day playing video games). Keeping track of my average power consumption over the last two years I spent living in an apartment I was surprised to see that my energy consumption was actually higher than average (possibly due to the old appliances like refrigerator, stove, water heater, and the old electric heating system). Once I was away from home for an entire week and I was surprised to see that I used about 20kWh per day just having my water heater heat water for no one to use!
Since I updated my electrical system at the beginning of this summer I've been keeping track of my energy consumption. Over the past three months I have used 128 kWh of energy. That's only about 1.4 kWh per day! Keep in mind it wasn't just me living here during the summer. It was me and my two kids (with my kids playing a significant amount of Minecraft). Just to give you some perspective:
The energy consumed by the average american home could power 21 tiny homes like mine!
or
The energy wasted by a conventional electric water heater could power 14 tiny homes like mine!
Now I should keep in mind that I haven't just been using electricity. I have used about 3 gallons of liquid propane (maybe less) for cooking and heating water, and about 2 gallons of gasoline (to run my generator for power tools), but that's barely anything over the course of 3 months! In the winter I used quite a bit more propane for heating (like 20 gallons for the entire winter), but I got a new propane furnace for this coming winter and I'm making a new wood stove. So, only time will tell for this coming winter.
The way I'm living is about 20 times more energy efficient than the average American household! Why do we live in such a wasteful society? Imagine if we could downscale our consumption we could easily reduce energy consumption and carbon emissions to a 20th of what they are today.
The interesting thing is I'm not really having to make any conscious sacrifices in energy consumption as far as my daily life goes. I still use my laptop, phone and other devices just as much as I did when I lived in an apartment--maybe even more. The big difference is really not in the lifestyle change, but in eliminating the appliances that waste energy and replacing them with more energy efficient appliances.